As I have noticed most newbies here are looking for how to hack Facebook, Hotmail... and other social networks accounts. And that is what this tutorial is about, i will answer all the questions you may be wondering about, then list all methods used to hacks these accounts and then give a detailed tutorial on how to do each one. (I know my English is bad, cz i am from an Arabic country and i speak also french and some Spanish so..)
First lets make some points clear, there is no software or any other program that can hack accounts like you may have seen on YouTube, all these are tricks to fool persons into downloading virus. And don't expect to do this with only some clicks, you need a brain, some logic and patience. You will also need some social engineering. SE (social engineering) is the ability to manipulate people to get them to do what YOU want or to get some info out of them.
Now lets list all methods used to hacks these accounts :
-1- Phishing or fake login page
-4- Password recovery (Mostly for Facebook)
What is phishing ?
Phishing uses a fake login page that looks exactly like the original one but this one send the passwords for the hacker instead. For this you will need some SE to convince the victim to login using you fake page.
How to make your own fake page ?
Well i removed this section because phishing is forbidden here :(
I am going to make one tutorial for both Loggers and Stealers.
What is a stealer ?
Well a stealer is a virus that will steal and decode all saved passwords on a victim's computer. So for this to work the victim must have saved his password (clicking remember password in the browser).
What is a Logger ?
A Logger run in silent mod (hidden) on the victim's pc and will record all pressed keys then send the logs to the hacker. So if the password isn't saved this will do the job + you can use it to see the conversations made between the victim and other persons .
How to setup a Stealer + Logger ?
Thanks for the unknowns for that great free logger.
This logger has 2 delivery option : By email or by FTP, i recommend using ftp as it is more stable or use a fake email so if you are traced to the email they wont get your real one.
1) Using FTP :
First login to you ftp account using Filezilla and upload a text file example "
logs.txt
"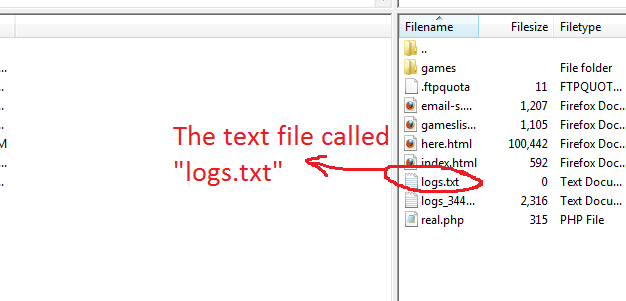 Now in the Logger fill in the information with user name, password of the ftp, and for the URL go to Filezilla and copy the URL of the

logs.txt
Then past it, that how it should look :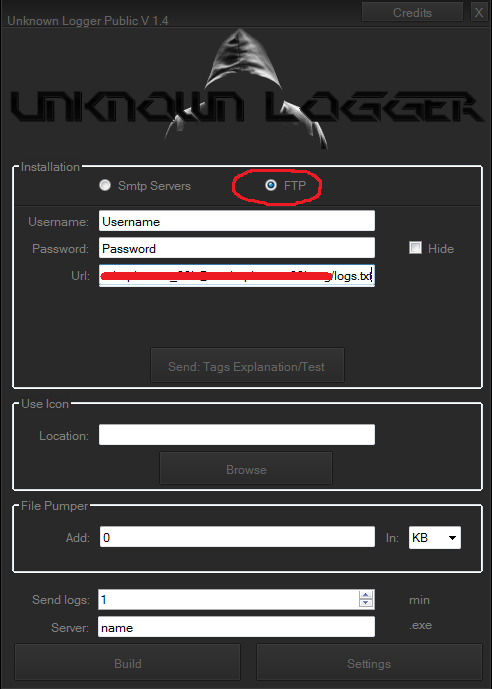 For the delivery by email :
I recommend Gmail, it is better than Hotmail for things like this. enter your email, password , choos "

smtp.gmail.com

", then enter the email address to send the logs for (use a gmail one it is better) leave the port as it is .
For both email and FTP click the " Send: Tags Explanation/Test " button, if everything is ok you should get this:

The next step is configuring the Logger and Stealer. First for the Logger, there is the "Send Logs" option if you leave it 1 this means the loggers will send the logs every 1 min , i recommend every 2 or 3 min but it is up to you. The name is simply the name of the virus. Now click the " Settings " button and check "Run on StartUp" in the "Extras".
Now for the Stealer, simply check everything in the "Stealers" tab in "Settings". (You can check only 1 or 2 options if you don't want the others)
That how it should look + explanation for other settings :
Now give it a name then click " Build " and you should get the Logger with a .exe extension. to spread it easily you can use a crypter to make it FUD, change the icon and use an extension spoofer.
The password recovery trick for Facebook!!
This is the only way you may be able to get the password without sending anything to the victim or even talking to him.
1)Go to Facebook and click " Forget your password ? "
2)Enter the victim's Facebook email to find his account, once you fond it click "This Is My Account" next to his picture.
3)Now they will tell you the password will be sent to the victim's email, but you don't want that, so here is the first trick : click " No longer have access to these " under the email.
4)Now you will be asked to enter a new email, use a fake one that you can access.
5)Now for the security question, you can use SE to get it or you can go the hard way : answer wrongly 3 times and you will get other recovery options.
6) Choose the Friends help, here you will choose 3 friends and a code will be sent to each one, using these code you will be able to send the link to change the password to the fake email you entered. Of course you should have access to the Facebook of the friends that got the codes, you can make 3 fake Facebook accounts and add the victim as a friend in each one, then send the code to these 3 accounts.
This conclude the tutorial i hope it helped you, and if you have any question just ask and i will reply as soon as possible. And if anyone leachs this tutorial at least put credits because it took me 2 days to put it together. And thanks...